Memories to last a lifetime...
Welcome to our world of treasured keepsakes. We're so glad you stopped by!
Here you'll find a beautiful collection of timeless keepsake pieces that are sure to fill you with joy. Crafted from the highest quality materials, and uniquely designed to help you capture the memories and moments you'll never want to forget.
Founded in 2015, Blossom and Pear is located on the Sunshine Coast, Queensland where we ship to every country worldwide. Our very first flagship store is now open at Kawana Shoppingworld, we can't wait to see you there.
- Leah & Lauren (Co-Founders)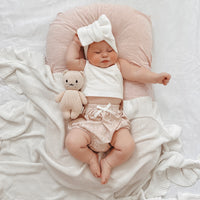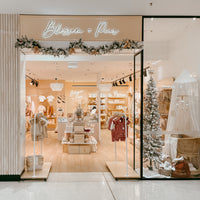 Flagship Store
Come and visit us in brand new flagship store! Located in Kawana Shoppingworld on the beautiful Sunshine Coast, QLD.

Click & collect available.
Shop Best Sellers
Chunky Knit Collection
Shop our NEW Colourway Chunky Knit Collection. Made from the cosiest 100% Cotton, you can mix and match a colourway for everyday!
Shop Colourway Collection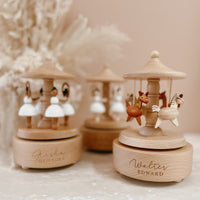 Personalised Musical Carousel
Lovingly etched with your little loves name, to be cherished forever. Measuring 11x18cm, our Heirloom Musical Carousels are available in two unique designs - Horse and Ballerina. Each box plays it's own tune - You Are My Sunshine (Ballerina) and City of the Sky (Horse).
Shop Musical Carousels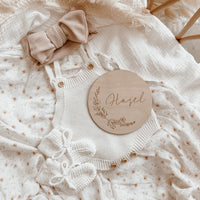 Announcement Inspiration
Choose your perfect announcement pieces from our collection of clothing, plaques, bows, swaddles and more!
Shop Announcement Plaques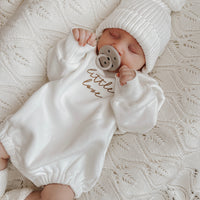 'Little Love' Bubble Romper
Comfort meets style with our oversized embroidered 'Little Love' Bubble Romper. Made from thick, luxuriously soft fleece lined cotton fabric, it is the perfect gender neutral piece for your little love. Featuring snap buttons on the neck for easy changing.

Available in three classic colours, from size NB-2Y. Now also available in 'Hello World' design.
Shop Bubble Romper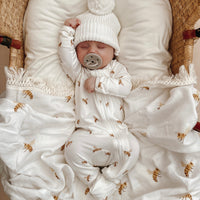 Bamboo Collection
Mix and match your favourite pieces from our buttery soft bamboo jersey collection!

Available in four neutral patterns:
Bassinet Sheet/Change Table Cover
Stretch Swaddle
Zipsuit
Kimono Suit
Footed Wrap Set
Beanie
Shop Bamboo Collection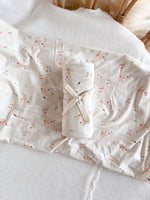 Treasured Memories
Our beautiful book-style Wooden Photo Frames are the perfect personalised gift or keepsake. Made from beech wood with gold hinges, each frame fits a portrait 5x7 inch photo. Lovingly engraved on the left side in our timeless script and serif fonts, it is sure to be treasured for years to come.

Available in four unique designs.
shop personalised frames
FOLLOW ALONG ON INSTAGRAM
This is absolutely beautiful. It's better than I expected, and I'm so looking forward to capturing my pregnancy this way. Additionally, the shipping was way faster than expected! Thank you so much.

Amanda N.
I bought the Wooden Pregnancy Set for my younger sister who is having her first baby and my first niece or nephew 🤩 Bought her to tears and she loved showing me each card via FaceTime (she's in Vic and I'm in Qld). I cannot wait to see pictures throughout her pregnancy using these! 💕

Chantel W.
Bought this for my daughter when she was a baby and definitely had to get one for my newborn son too! I love the simple, clean look and the quality materials. It looks great on the shelf in baby's room! Thank you!

Valerie H.
These cards are just beautiful. I have two sets and am equally in love with each one!

Mary W.
I got emotional and teared up when opening this beautiful package! The book is even better than I imagined. So many thoughtful prompts and memories to capture through this beautiful journey of motherhood. Thank you so much for the super fast shipping too!

Erika S.
This is even more stunning than I imagined! Superb quality and the calligraphy inside and gold foil on the cover & spine are gorgeous. I love it!!!

Nicole B.
Shipping was extremely quick and the cards are even more perfect than I imagined. Thick paper, great quality ink, and so adorable! They made the perfect gift!

Sarah F.
I love this baby journal so much, I was looking for something classic and not at all tacky or childish (like a lot of journals out there can be). The little quotes inside are lovely and even my tradie fiancé said the book was beautiful.

Taylor B.
This baby book had me bawling as soon as I started flipping through the pages. It is so sweet and captures all the little moments in such a perfect, timeless way.

Skylar S.